Planning a trip to Florence, Italy? Wondering how you can embrace the city's iconic style? One of the first questions many travelers ask themselves is what to wear in Florence, Italy.
As the birthplace of the Renaissance, Florence is one of Italy's most captivating destinations, and wearing the right clothes to match the city's sense of style is crucial. From light and airy clothes in the summer to dark, muted fits in the winter, there are so many things to consider when trying to determine what to pack.
Luckily, you've come to the right place! In this guide, we'll break down all you need to know about what to wear in Florence, Italy, to look your best and feel the most comfortable.
Dress Code In Florence, Italy
Most people in Florence adhere to a clean and simple dress code. The locals appreciate a classic and understated style, so we recommend opting for timeless pieces in neutral and classic colors.
Beyond clothes, shoes play a vital role in the fashion scene. Italians value quality footwear, so make sure to invest in a pair that not only complements your outfit but also provides comfort for those leisurely strolls through Florence's cobblestone streets.
Dressier outfits are great for evening outings, though that doesn't mean you can't embrace the Italian flair in your daytime attire as well. Think chic bags and statement necklaces for women or timeless watches for men.
One cardinal rule to remember is to avoid looking like a tourist.
Leave your fanny pack or bulky backpack behind and instead opt for a sleek and practical crossbody bag or a stylish tote. When you blend in with the locals, you'll feel more confident on your journey.
What to Wear In Florence, Italy, by Season
1. Winter in Florence Clothing – (December, January, February)
Winters in Florence can be quite chilly, with temperatures ranging from 59°F to 37°F.
If you want to stay warm and stylish in Florence, a trench coat is a must-have.
There's no more classic piece of outerwear that provides both protection against the cold and a sophisticated aesthetic. Plus, it's a versatile piece that you can layer over sweaters, long-sleeved tops, or trousers.
2. Spring in Florence Clothing – (March, April, May)
Spring is one of the best times to visit Florence, thanks to the milder temperatures that range from 68°F to 45°F.
As for what to wear in Florence, Italy, in May or during the spring, one versatile piece we often recommend for women is a pant skirt, as it combines the elegance of a regular skirt with the practicality of pants. You can pair it with light sweaters, blouses, or t-shirts and layer with a light jacket or cardigan when it gets colder out.
Explore More: Florence In May – Is It a Good Time To Visit?
3. Summer in Florence Clothing – (June, July, August)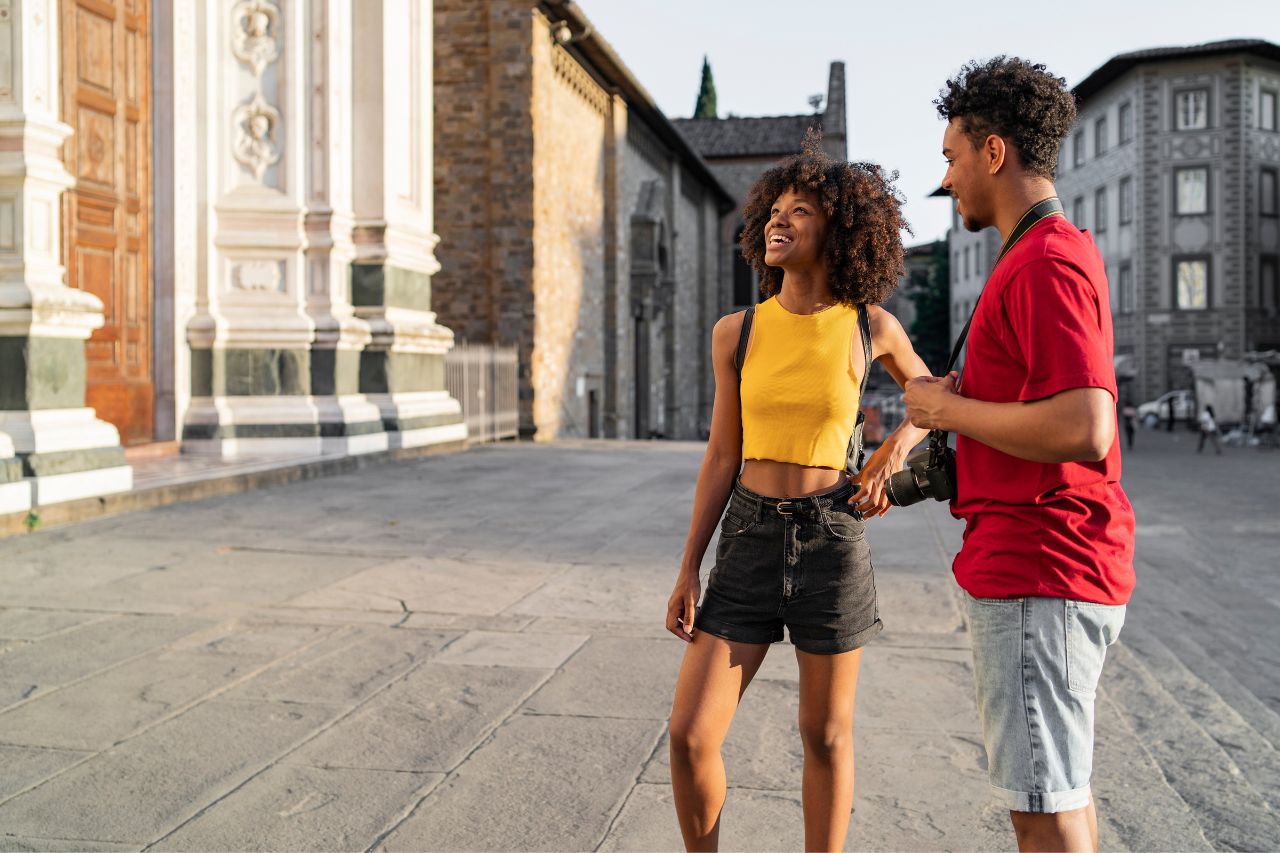 Summers in Florence are the complete opposite of winter — hot and humid.
You'll experience average highs reaching 86°F with plenty of sunshine, so it's important to dress accordingly to stay cool.
Opt for lightweight and breathable fabrics like cotton or linen. Tank tops and airy blouses paired with shorts, skirts, or lightweight trousers are ideal for beating the heat.
PRO TIP – Don't forget to bring your sunscreen!
4. Autumn in Florence Clothing – (September, October, November)
Figuring out what to wear in Florence, Italy, in autumn can be quite difficult, as the weather can fluctuate quite heavily.
You can expect highs ranging from 64°F to 73°F and lows around 50°F to 57°F.
However, rainfall is also more frequent during this season, so we highly recommend packing a rain jacket or a waterproof coat.
Read more: What to Buy in Florence, Italy — Shop Artisan Fashion Goods
Tips on Footwear
Best Shoes for Walking on Cobblestones
The charming streets of Florence are lined with cobblestones, so wearing comfortable and sturdy shoes is essential.
Opt for footwear with good arch support and cushioning to fatigue, such as closed-toe sneakers, loafers, or flats.
If possible, avoid high heels or shoes with thin soles. The last thing you want to do is get your heel caught in the cobblestones and take a nosedive on a night out!
Footwear for Formal Occasions
As we said before, the people of Florence appreciate stylish and high-quality footwear. If you're planning some formal occasions during your trip, having appropriate footwear is a must.
Men should bring pair of well-polished dress shoes, such as loafers or Oxfords, and women should bring closed-toe heels or stylish flats.
Respectful Attire for Visiting Churches and Religious Sites in Florence
Rules and Customs
Knowing what to wear in Florence, Italy, when visiting churches or religious sites is a must, as it's important to adhere to the rules and customs out of respect.
While guidelines may vary slightly from one church to another, here are some general things to keep in mind:
Be Modest: Both men and women should dress modestly. Avoid wearing revealing or overly casual clothes, such as tank tops, shorts, or mini-skirts.
Hats Off: It is customary to remove your hat when entering a church or religious site.
Be Quiet and Respectful: Avoid loud conversations and stay off your phone. Remember that these spaces are places of worship and silent contemplation for many.
Suggested Attire
Modesty is key when visiting a church or religious site, so make sure you're wearing tops that cover your shoulders. Women should avoid low-cut or revealing necklines. If you don't have the proper top, you can carry a shawl or scarf with you to cover your shoulders.
For bottoms, we recommend a nice pair of trousers for men or below-the-knee skirts or dresses for women.
Lastly, we recommend wearing comfortable shoes. You might be required to walk or stand for extended periods inside the churches, so having a good pair of shoes with you is ideal. Just make sure you avoid wearing flip-flops, sandals, or any footwear that expose your feet.
Explore More: Day Trips from Florence – 15 Unforgettable Tours (2023)
FAQS About What to Wear in Florence Italy
What Colors to Wear In Florence?
When it comes to colors in Florence, it's best to stick to classic and neutral tones. Think of timeless colors like black, white, navy, beige, and gray. The city has a very elegant ambiance, and with the right hues, you can blend right in. Plus, the more versatile your clothes are for various occasions, the less you'll have to pack.
What do You Wear to Dinner In Florence?
What you wear to dinner will depend on where you're going. Just like any city, Florence offers a range of dining options, from casual trattorias to upscale restaurants.
With that said, in general, it's customary to dress up a bit.
For men, trousers or dark jeans paired with a button-down shirt and dress shoes should work just fine. Women can opt for stylish dresses, skirts, or trousers paired with a blouse or dressy top.
Accessories like jewelry or nice watches never hurt, either!
Can I Wear Jeans in Florence?
Absolutely! Jeans are especially great for casual outings during the day. With that said, we recommend opting for dark-colored jeans, as they tend to appear more sophisticated.