If you're looking for the best cities to visit in Italy for the first time, you may be feeling overwhelmed with options! There are so many wonderful towns, cities, beaches, and geographies to explore on this beautiful peninsula, how can you possibly choose?
We're here to help! Below are our top recommendations for places to visit on your first trip to Italy. From cities to small towns, to geographical regions, and even little-known hidden gems, we've got tons of suggestions and recommendations to help you make the most of your time in Italy!
Let's take a look at the best options, as well as some important travel secrets to keep in mind while planning.
Italy for First-Time Visitors: Choosing Your Trip Destinations
When choosing trip destinations, consider your priorities. Do you prefer to spend more time on the go and see as much as possible with the time you have, or do you prefer to travel slowly and really take in the views?
In general, give yourself time to explore. Day trips and focusing on specific geographical areas are always helpful! Consider blending the "must-see" spots that everyone will ask you about with the lesser-known, more obscure options in whatever balance suits your interests and travel style.
Above all, follow your own inspiration and goals for your trip. See which places pique your curiosity or inspire you most, and plan around that!
The Best 5 Cities to Visit in Italy For The First Time
1. Rome
Rome is the capital of Italy, and this city rich in ages of history is definitely one of the best cities to visit in Italy on your first trip. From the Colosseum to the Vatican Museums, all eras have left their mark on Rome. Traveling in the off-season – October through March – will help you beat the crowds.
The most popular sites that require tickets, like the Sistine Chapel or Colosseum, Pantheon, will sell out quickly. Book in advance! If you need to go last minute, try booking a group tour. Those companies will often buy the tickets in advance of the tour and before all spots in their group are sold. Group tours will also often allow you to skip the line.
Travel Secret: The Trastevere neighborhood offers less crowds and tons of charm – not to mention tons of incredible restaurants, cafes, and bars.
2. Venice
Not much beats the magic of the floating city and Venetian canals on your first trip to Italy! This car-less city is incredibly walkable, and small enough to be explored thoroughly. The city is made up of 6 sestieri or neighborhoods, each with their own attractions. Santa Croce is where the main port, trains, buses, and parking can be found. Tourist draws like the Peggy Guggenheim Collection and St. Mark's Square are found in San Marco, Dorsoduro, and San Polo. Cannaregio and Castello offer quieter neighborhoods for a stroll or bite to eat.
Travel Secret: Venice is a must-see for many travelers, but the Veneto region also offers a ton of day trips to other islands in the lagoon – try Murano, Burano, and Lido – or to charming towns on the mainland – perhaps the medieval Treviso, or the literary-famous Verona.
3. Florence
At the heart of the Italian Renaissance, Florence is famous for its art and architecture. Due in part to the influence and patronage of the Medici family, a number of master artists were from or spent time working in Florence including Michelangelo, Leonardo da Vinci, Benozzo Gozzoli, and Giotto. On your first trip to Italy, be sure to visit the Duomo, many art museums, Ponte Vecchio, and the Boboli Gardens.
Travel Secret: Avoid dining in famous tourist spots, as the costs are extremely high! Food in Florence is relatively inexpensive, look for lower prices and local patrons to indicate authenticity.
Read More: The Top 12 Books About Florence
4. Milan
The fashion capital is full of shopping, but also history, culture, and great food! Don't miss the Duomo of Milano, and the piazza surrounding it, as well as the many churches and castles. The city is also home to Leonardo da Vinci's The Last Supper.
Travel Secret: It can be nearly impossible to get tickets to see The Last Supper. But there's a workaround: tour agencies get the first claim, so booking a group tour may be key if the famous site is important to you.
5. Naples
The vibrant city of Naples is found on Italy's southwestern coast. Famous for Neapolitan pizza, Naples is located in an area that has been inhabited since ancient times. The nearby Pompeii ruins and Amalfi Coast towns make Naples an excellent base for your first trip to Italy. Don't miss the famous Toledo Metro station, Spaccanapoli, and the historic center with its grottos to the Madonna.
Travel Secret: Check out the nearby Vesuvius National Park for an intimate glimpse into the volcano that has defined the culture and ecology of this region for thousands of years.
Read more: How Many Days in Naples Does it Take to Explore the City?
The Top 5 Places to Visit on Your First Trip to Italy
1. Cinque Terre
Cinque Terre is a special place to visit on your first trip to Italy. It is a coastal chain of five small towns, located in Liguria: Monterosso al Mare, Vernazza, Corniglia, Manarola, and Riomaggiore. These popular villages are colorful and gorgeous, offering seaports, fresh seafood dining, local wines and dishes, and relaxing beaches. The hiking trails between the town offer sweeping views and easy transportation.
Travel Secret: If you want to travel without a car, base yourself in Levanto. The train station there runs frequently to each of the five towns, and it's also more affordable.
2. Sicily
Sicily is the island at the bottom of the "boot" of Italy. This is a must-see place on your first trip to Italy if you love nature, ancient history, and beaches. Mount Etna, a very active volcano, towers over the island's horizon line. Don't miss the bustling markets of Catania and Palermo, incredible local food, hikes on Mount Etna, and the gorgeous shoreline and beaches.
Travel Secret: Don't miss the small islands nearby. For example, Ortigia is connected to Sicily by a small bridge, and is easy to navigate on foot.
3. Amalfi Coast
Located on the Tyrrhenian Sea, the Amalfi Coast sits on the Gulf of Salerno. Close to Naples, the coastline offers tons of gorgeous towns, beaches, and hikes. Known as a luxury travel destination, the Amalfi Coast caters to tourists and offers many private beach clubs and resorts.
Travel Secret: If you want to visit the Amalfi coast but want to avoid the crowds, try the smaller fishing villages of Minori or Cetara.
Read more: Amalfi Coast Food – Indulge in the Best Italy has to Offer!
4. Val d'Orcia (Siena)
The valley that surrounds the Orcia River is full of castles, cypress trees, hotsprings, vineyards, olive fields, and old mills. This quintessentially-Tuscan region is easily explored by car or bicycle, or on foot for the adventuresome traveler! This is really one of the best places to visit in Italy for the first time.
Travel Secret: Don't miss out on the incredible local products of this area, especially wines and Pecorino Val d'Orcia sheep cheese from Pienza.
Read more: San Quirico d'Orcia – A Medieval Escape You've Been Craving for
5. Dolomites
An incredibly popular destination for hikers, climbers, and roadtrippers on their first trip to Italy, the Dolomites are located in the northeastern Italian Alps. Small towns and hiking trails abound in this stunning mountain range. Don't miss the popular town Cortina D'Ampezzo, and the scenic drive to the nearby Corvara in Badia.
Travel Secret: Even in the summer, pack for the mountains! Many favorite spots are at high altitudes where there is snow year round.
5 Small Towns to Not Miss if You Visit Italy For The First Time
1. Bellagio
A favorite destination in Lombardy, Bellagio is located on promontory between the two southern parts of Lake Como. The quaint alleys, local food, and lake views quickly make it clear why this town is a traveler favorite! Don't miss the beautiful Gardens of Villa Serbelloni and Villa Melzi.
Travel Secret: The nearby fishing village Pescallo is easily overlooked, but offers a smaller scale respite and its viewpoints and beach.
2. Sorrento
Namesake of the Sorrentine Peninsula, Sorrento is located near the Amalfi Coast. Check out all the amazing shops and restaurants in the main square, Piazza Torquato Tasso and in Marina Grande. Its proximity to Naples and the Amalfi Coast make it ideal for a first trip to Italy.
Travel Secret: There's a lemon grove in the center of town! Check out I Giardini di Cataldo for local products and limoncello.
3. Taormina
Located on the beautiful island of Sicily, Taormina sits atop a cliff below Mount Etna and overlooking the Ionian Sea – an unbeatable combo! Pay a visit to the Teatro Antico di Taormina, an amphitheater from 3BC that is still in use today, you might even be able to catch a play or concert! The main square of Piazza IX Aprile is bustling with activity, shops, bars, and restaurants.

Travel Secret: Connected to the mainline of Taormina by a strip of sand, the peninsula of Isola Bella offers gorgeous beaches, clear water, and a nature reserve home to rare Sicilian flora.
4. Assisi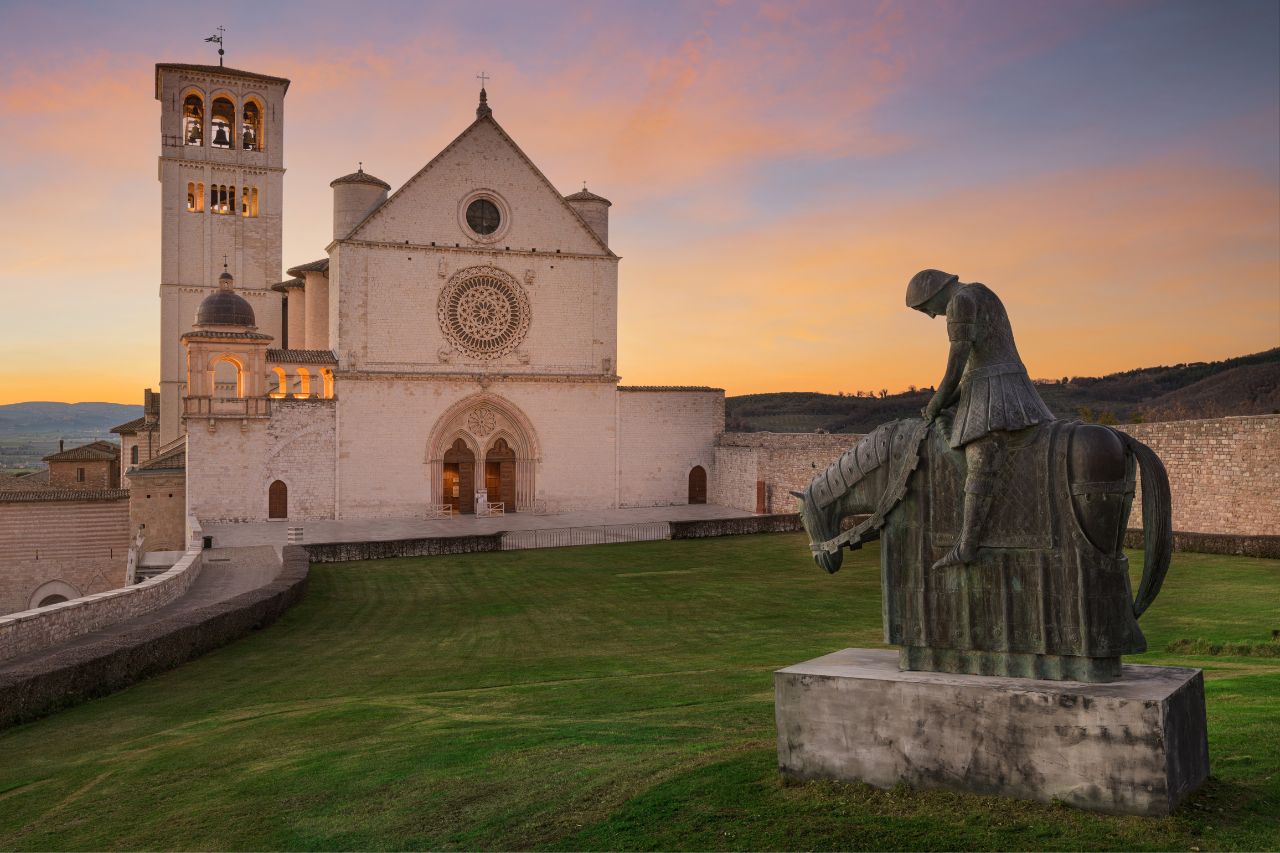 Probably best known as the birthplace of Saint Francis, Assisi is located in the Umbria region, on Monte Subasio. First settled around 1000BC, Assisi is full of ancient and medieval history that makes it a great stop when you're visiting Italy for the first time. The Basilica di San Francesco is a visitor favorite and consists of a cathedral built above a smaller church.
Travel Secret: Though outside of Assisi, the fortress of Rocca Maggiore offers sweeping and incredible views of the town and surrounding foothills.
5. San Gimignano
This medieval town is found high in the hills near Siena, Tuscany. Its skyline of Tuscan towers is impressive – 14 still standing! – and will easily catch your eye from the road. Its nickname is even "San Gimignano delle Belle Torri" (San Gimignano of the Beautiful Towers). In addition to the usual Tuscan charm of this region's towns, the towers have unique origin stories and eras, offering a glimpse into the town's history through the ages.
Travel Secret: San Gimignano makes a great day trip or tour stop from Siena. But to avoid the crowds, work around the tour schedules. The most calm time to visit San Gimignano is in the morning.
1. The Park of the Monsters
Officially called the Sacro Bosco, the sacred wood, the Park of the Monsters is a garden full of surreal and monstrous sculptures commissioned in 1552 by Prince Pier Francesco Orsini. The prince was likely in a state of grief following a brutal war, hostage situations, and the death of his wife upon returning home. The layout of the garden is much more chaotic than the Renaissance norms of the time, which could echo the emotions of its benefactor.
Travel Secret: Plan ahead for the details on this one! The line can be long to enter, so bring some entertainment. Keep in mind that pets aren't allowed in the gardens, but there are kennels where they can stay while their owners visit. There is a restaurant in the park, but it's usually only open for lunch. Lastly, the roads through the garden aren't paved, so be sure to wear comfortable shoes and clothes.
2. Bolgheri
The town of Bolgheri is located in Tuscany just 10 miles from the Etruscan coastline, and is famous for its fine wines. Not only is the town itself charming (don't miss the castle!) but it's surrounded by vineyards and olive groves offering tours and tastings galore. This is a "must" for wine-loving travelers.

Travel Secret: Take the Viale dei Cipressi on your route into Bolgheri! This 5km long straight road from the 1800s is lined with ancient cypress trees and leads right to the castle of Bolgheri.
3. Basilicata's Ghost Towns, Craco and Aliano
These little-known towns in the region of Basilicata, Craco and Aliano, are located near the more well-known Matera. These hidden gems are definitely worth a stop on your first trip to Italy! Both towns were built near calanchi, mounds free of vegetation. Craco was built on a very steep incline for defense purposes and was completely abandoned following massively destructive landslides in the late 1900s. Aliano is nearby and has a declining population, following an earthquake in 1980 that destroyed most historic buildings. Both towns are surrounded by unique landscapes and are near the coast of Taranto.
Travel Secret: Don't miss the signs of lives past in the ghost towns: market squares, political symbols on the roads, homes for farm animals… these towns are compelling and have inspired a lot of movie locations, but they also demand respect and attention to their tragic histories.
4. Civita di Bagnoregio
Just a couple hours from Rome, Civita di Bagnoregio is a "storybook" town in population decline, but increasing in popularity for tourists. Home to only about a dozen full-time residents, the town is sustained by visitors seeking its (very) small-town charm. Life here is slow and quintessential, even if a trip to the grocery store means leaving town to the nearby Bagnoregio, connected by a footbridge.
Travel Secret: If you can, visit during a traditional festival! Palio della Tonna is a donkey race that happens in August and September, Civit'Arte is a summer cultural event series, and Festa della Castagna is a festival of chestnuts in October.
5. La Scarzuola, Montegabbione
In the hamlet of Montegiove in Umbria, you'll find the architectural complex of La Scarzuola. Originally a convent related to Saint Francis of Assisi, it was partially abandoned and then purchased by Tomaso Buzzi, an architect from Milan, in the 1950s. He restored the convent and added buildings – his "ideal city" including amphitheaters, statues, and a miniature tower of Babel.
Travel Secret: Tomaso Buzzi passed away in the 1980s and left the complex to his nephew who now runs the park. It can be visited only by reservation, so make sure to book in advance.