Depending on what you're looking for in the central Italy cities, you might find wondrous ancient Roman temples, tasty traditional Italian chocolates, or a bustling street full of luxury goods. We love this region of Italy because of the intrigue and unparalleled beauty that it inherited from one of the mightiest empires in all of human history.
The central Italy cities would include Rome, Florence, Pisa, Siena, and Assisi. Many of the beautiful cities situated in Tuscany, Lazio, and Umbria began as Etruscan hill cities. From the medieval towns to the rolling vineyards and natural wonders, this region of Italy never fails to bring wonder to the eyes of its travelers.
Would you like to uncover the secrets of 17 of the best cities in central Italy? Keep reading as we explore the best things about these cities in this region.
The Best 17 Central Italy Cities
Now that we've explored the regions that compose Central Italy, let's delve into the top 17 cities that make this region a captivating destination. From the historic wonders of Florence to the architectural brilliance of Rome, each city we encounter unfolds a unique chapter in Central Italy's story, weaving together a narrative of cultural richness and culinary delights. Join us as we unravel the secrets and treasures that await in these captivating urban gems, each contributing its own special flavor to the unparalleled mosaic that is Central Italy.
Top Cities in Tuscany
Let's take a look at some of the best cities in central Italy in Tuscany. You have some great places to visit while here.
1. Florence
Known as an art lover's paradise, Florence boasts some of the world's best masterpieces, and you will find many art galleries. Florence also happens to be the home of the Italian Renaissance, which some historians believe was the most prosperous cultural period in all of Europe. To give you an idea, Florence has about 70 museums in the whole city, so you won't run out of things to see and do here.
2. Pisa
Famous for its classic landmark, the Leaning Tower of Pisa, this site has become known across the world. Along with the Leaning Tower, you might check out the baptistery and duomo. You can find so many things to do in Pisa. There are historical masterpieces, churches, palaces, and museums. Pisa also has a bustling nightlife, and located on the Versilia Coast, 6 miles from Pisa, is where some of the most famous discos are located including Forte dei Marmi and Viareggio. The best nightlife in the city would be found closer to the center of the city.
3. Siena
Ranked as the most beautiful medieval city in all of Italy, it would be a mistake not to go see this Tuscan city. One of the cities in central Italy, this classic hilltown has historic buildings strewn about, and they listed the old historic center as an UNESCO World Heritage site. Siena also ranks highly when it comes to the best walking cities.
4. Livorno
Livorno has a lovely canal system throughout, and many travelers arrive in Livorno on a cruise ship. You can find a number of contemporary and historic museums in Livorno. Many think of Livorno as a stopover city to the more popular destinations, but don't let that stop you from exploring. Livorno ranks as one of the most important ports in all of Italy.
5. Grosseto
The perfect city to escape with the family, Grosseto has a reputation for its ambiance. You will find many unexpected surprises with it being home to one of the most beautiful natural parks in all of Italy, the Maremma Regional Park. Just keep in mind that this city is quieter than some of the other more touristy ones.
Top Cities in Umbria
Now that we looked at the cities in Tuscany, let's take a look at those found in Umbria. This region is known as the land of saints with many famous ones born here like St. Valentine, St. Francis of Assisi, and St. Benedict.
6. Perugia
You will encounter ancient torn-down fortresses, panoramic strolls to hilltops, and stunning views of a beautiful city center. The city has become famous for its chocolates, and you might use it as a stopover site to the best cities in central Italy like Rome.
7. Assisi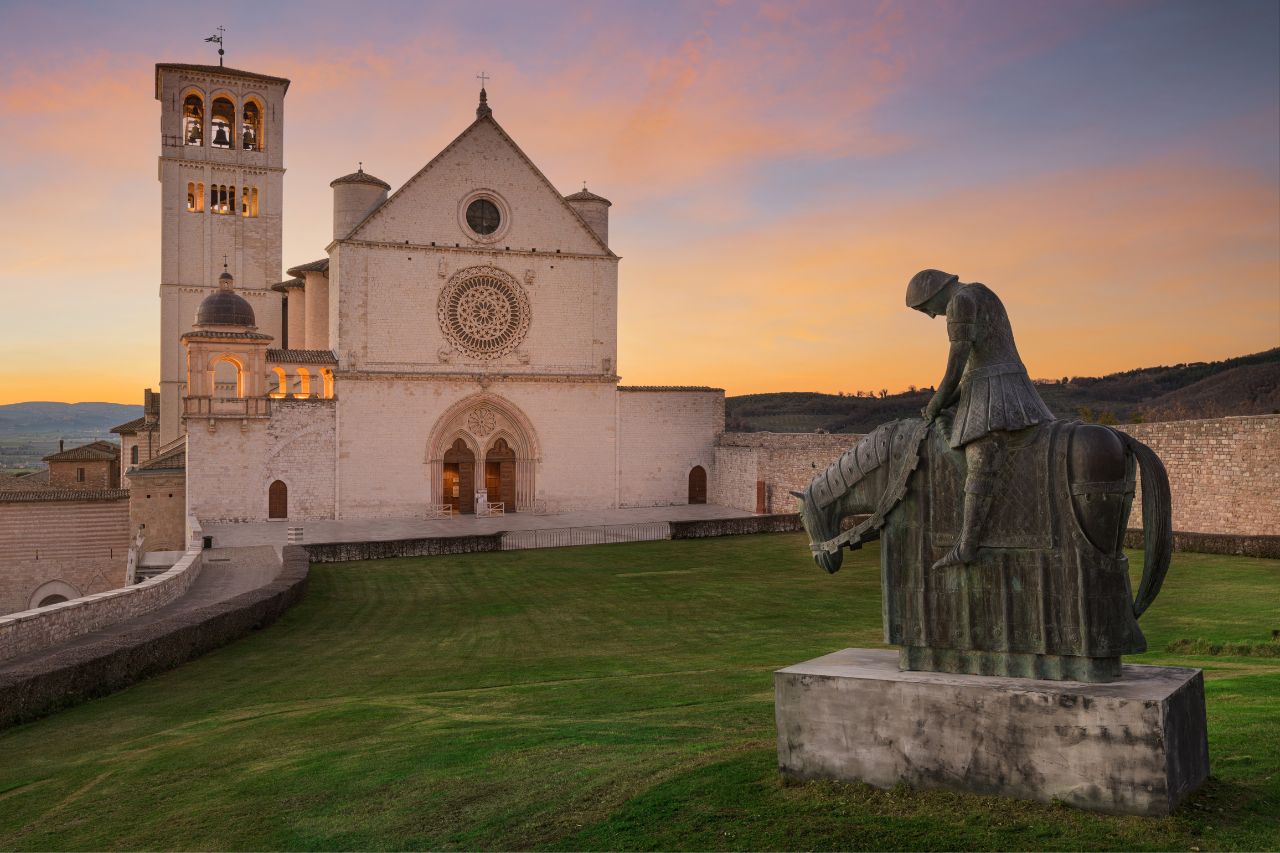 The city earned UNESCO World Heritage status, and you will encounter a long list of churches and historical sites to see here. Wonderful architectural buildings can be found throughout the city, and you will also find stunning art here. A visit to the basilica here will reveal spectacular murals and paintings that would rival the best art museums.
8. Gubbio
Gubbio represents the peak of medieval Italian cities from the 1200s to the 1300s. It stands out as one of the most ancient cities in Umbria, you will encounter many well-preserved monuments here. It's a sizable town located at the base of Mount Ingino.
9. Terni
The city of Terni earned its reputation for its modern art and architecture. Some of the noteworthy things to visit here include Corso del Popolo, Piazza Tacito, and Largo Villa Glori. It's known as "The City of Lovers," and its patron saint is St. Valentine. Especially if you love cycling or hiking, Terni would make perfect sense as a place to see.
Top Cities in Le Marche
Let's take a look at some of the best places that you could check out in Le Marche. The region has a reputation as being good for cycling and walking.
10. Ancona
Ancona is the capital of Le Marche. The city has become most famous for its international port, and each year, over one million travelers pass through this port on their way to other countries like Turkey, Greece, and Albania. You might visit this city for its fantastic views, history, and art. For a good art gallery, head over to the Pinacoteca Communale, located in the historic palazzo. It contains works by the artist Titian.
11. Pesaro
One of the central Italy cities, Pesaro is worth a visit because it is the home of some of the greatest masterpieces in the history of opera. It's famous for being the UNESCO Creative City of Music, and you will find that it was the home of Gioacchino Rossini the composer who wrote the Barber of Seville and William Tell.
12. Macerata
Rich in Renaissance and Baroque architecture, Macerata is famous because it preserved its beautiful historical center with its defensive walls. Some have given it the nickname, "The Athens of Marche." There are virtually no tourists in Macerata, and the medieval buildings will leave you in awe. Macerata boasts many fun festivals and mountain views.
13. Ascoli Piceno
One of the elegant cities in Le Marche, you will have many reasons to visit including a lavishly decorated ancient theater. You will also find many historic buildings, churches, and splendid piazzas. The city has ancient Roman origins that date back to the 3rd century BC when the Romans first settled in this territory.
Top Cities in Lazio
Lazio consists of a lot of hills, and for that reason, you will find that many of the cities in this region are hilly. It also ranks as one of the most popular regions in the country.
14. Rome
Once the center of the Holy Roman Empire, Rome was the most powerful city on earth, and with that, you can bet that it has a ton of interesting history, temples, foods, art and buildings to see. The city dates back to more than 2,500 years ago, which makes it older than the country of Italy, which was established in 1861. Rome has over 900 churches and 280 fountains, and it is the home of many famous artworks. You could also use it as a place to go shopping.
15. Tivoli
At one time, the ancient Romans used this as one of the central Italy citiesthat they would do summer retreats to, and the wealthy during the Renaissance would also head to Tivoli. This hilltop town has two UNESCO World Heritage sites, and Villa Adriana was once the sprawling estate of Emperor Hadrian. This town has a rich cultural heritage and numerous garden villas. You could especially take advantage of this town if in Rome because it only sits 18 miles to the east.
16. Viterbo
In the 13th century, Viterbo was the official papal residence. He chose to live here to escape the hostile persecutions going on in Rome. In total, 9 popes used Viterbo as the papal residence, which is why you sometimes hear it called, "The City of Popes." Today, it ranks as one of the best-preserved medieval towns in all of Italy. Many of the older buildings (especially the churches) were built upon ancient ruins. You can recognize this when you see large stones.
17. Rieti
Rieti consists of many architectural wonders, and the city spans many centuries going back to the 9th or 8th century BC. Art lovers will want to check out the Cathedral of Santa Maria Assunta. You will love the ancient Roman bridge located on the Velino river. Rieti has a strong sporting tradition. While here, make sure to check out Rieti's underground. You will find it hard to imagine that below the street level, there's a magical world just waiting for discovery. Check out the sturdy arches of what was once an ancient Roman viaduct. It was built in the 3rd century BC and was once the ancient salt route entering the city.
What are the Characteristics of the Cities of Central Italy?
The characteristics would be the charming rolling hills and the towering mountains of the Apennines, with the tallest peak reaching 9,554 feet, and where a few major rivers flow from. The region boasts a warm, dry Mediterranean climate with mild winters and warm summers, causing the buildings to be built with heavy building materials, sun shading devices, and high building density. Most of the rain only falls here during the winter months. Central Italy would consist of 22,400 square miles with Rome being the largest city in this region at 2.873 million people.
What are the Regions of Central Italy Made up Of?
To better understand the central Italy cities, let's take a look at the regions that make up central Italy. This will help you to better understand the cities found within those regions.
Tuscany
The capital of Tuscany is Florence, a charming city once known for its Renaissance artists like Leonardo da Vinci, Sandro Botticelli, Michelangelo Buonarroti, and Perugino. Besides Florence, Tuscany has other great cities worth checking out including Pisa, Siena, Livorno, and Grosseto. Tuscany also happens to rank as the most popular out of all the 20 Italian regions. Its western edge sits along the Tyrrhenian Sea.
Umbria
This region of Italy makes up 3,268 square miles. In terms of the cities that you would want to see here, they include Perugia, Assisi, Gubbio, and Terni. The region sits in the middle with Rome to the south and Florence to the north. You would love to come to this region if you enjoy art and history. Umbria also holds some of the oldest cities in all of Italy with many of them well preserved.
Le Marche
One of our favorite ways to travel through Le Marche is by cycling. Some of the must-see cities here that you must visit include Ancona, Pesaro, Macerata, and Ascoli Piceno. This region is famous for its history, artistic heritage, beautiful coastline, and its authenticity. Le Marche remains relatively unknown to travelers compared to some of the other regions.
Lazio
Famous for being the region with Rome, this is also the capital city. As far as cities in center Italy go, you can choose from a few including Rome, Tivoli, Viterbo, and Rieti. This ranks as the most visited region in all of Italy in part thanks to Rome. Mountainous views and stunning coastlines help to make this region into dreamy landscapes. This region is home to many time-honored and ancient traditions.
Wrap Up
This shows you 17 of the best cities in central Italy. We invite you to explore it for yourself and see what kind of fascinating things that you might come across on your own while strolling through the ancient streets of what was once the beating heart of the Holy Roman empire. Some of the cities here are medieval towns rich in history, art, and tradition. You never know what you might find when exploring this exciting part of Italy, which is what makes vacation so satisfying.